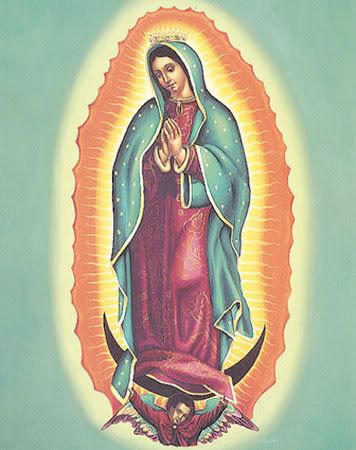 I have been dying to get a tattoo. I was supposed to get one for my birthday, but I didn't have enough money since any checks I got had to go to buying books and food. Ugh. I still want to get a pin-up girl on my leg and a Fafi girl somewhere (maybe my shoulder or upper back - basically I'm trying to stay away from any body areas where I may already be fat/have potential to get fat. But I'm also super obsessed with the Virgin of Guadalupe (I weird interest in Catholic religious symbols and saints) and luckily enough, I live in LA which means just about every single tat parlor has someone who does the Virgin and does her well.

Okay that sounded super disrespectful and gnarly. Moving on, I just don't know where I would put her. I really want something on my forearm but that's kinda tricky unless you work in a super fun liberal awesome work environment that doesn't get shirty about those things. Espesh since I don't have a job right now.

I just really want to put the Virgin somewhere I could see her, so I could be reminded of her awesomeness all the time. Maybe my upper arm? That just seems so cliche. (Haha, like getting a tat of the Virgin is not)

Meh, I need help. I just don't know what to do! Ladiessss!